ViniVerso is a winemaker collaboration in Friuli's Colli Orientali, spearheaded by Mario Zanusso of Az. Agr. i Clivi of Corno di Rosazzo. Fellow growers around the winery began to notice i Clivi's commercial success and eventually turned to Mario when domestic and export markets began to collapse during the pandemic. His solution was to create the ViniVerso label which unites the production of several small, organic growers, offering built-in demand as a result of i Clivi's reputation for quality.
Unlike i Clivi's steep slopes which require hand harvesting and manual vineyard work, ViniVerso's sites enjoy the advantage of being flatter and much less labor intensive. Through this efficiency, ViniVerso produces high-quality wines despite rising production costs and an unfavorable labor market. Mario's export market savvy and keen eye for labels certainly don't hurt the equation either. The labels' charming, stenciled creatures at once depict the region's local fauna while hinting at Zanusso's appreciation for renowned, British street artist, Banksy. Today, ViniVerso's growers are thriving, and hope to expand their offering in near future. Each wine offers a glimpse into Friuli's picturesque countryside while delivering sustainability and value. Cin cin!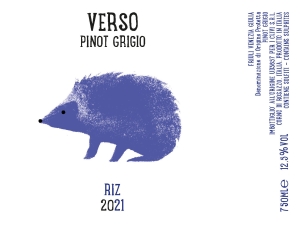 Pinot Grigio 'Riz'
Grape Variety: 100% Pinot Grigio.
Tasting notes: Floral notes of hawthorn and acacia; on the palate, it gives vivid minerality and salinity.
Vineyard: Località Gramogliano, Corno di Rosazzo, 20 years        Soil: Clay/limestone
Harvest: End of August
Production: 10.000 bottles/year
Alcohol: 12.5%
Residual sugar: <2 gr/lt Vinification: Fermentation and elevation in cement, on the fine lees for six months.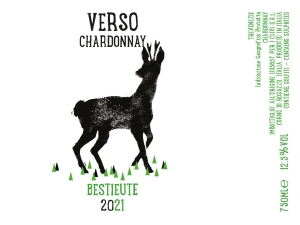 Chardonnay 'Bestieute'
Grape variety: 100% Chardonnay.
Tasting notes: Citrus fruit and white flowers, and minerals with hints of honeysuckle and herbs.
Vineyard site: Località Gramogliano, Corno di Rosazzo, 30 year-old vines
Soil: Clay/limestone
Harvest: Beginning of September
Production: 10,000 bott/year
Alcohol: 12.5%
Residual sugar: <2 gr/lt Vinification: fermentation and elevation in cement with lees contact for six months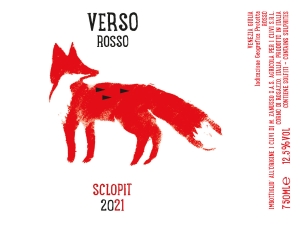 Verso Rosso 'Sclopit'
Varietal composition: 50% Schioppettino, 50% Pinot Noir
Vineyard site: Gorizia-Gradisca, 30 year-old vines
Soil: Clay
Tasting notes: Delicate and spicy with notes of wild berries, cherries, and white pepper with hints of licorice and balsamic.
Harvest: Mid-October
Production: 3,000 bottles/year
Alcohol: 12.5%
Residual sugars: <2 gr/lt Vinification: in concrete, with a submerged cap for gentle extraction of anthocyanins, polyphenols, and tannins. Fermentation using indigenous yeasts, maturation in cement on its own lees.

Annual production: 60,000 bottles
Varietals planted: Cabernet Franc, Chardonnay, Friulano, Malvasia, Pinot Grigio, Pinot Nero, Ribolla Gialla, Schioppettino
Soil composition: Clay/Limestone/Sandstone
Vined surface area: 25 ha
Trellising system: Doppio Capovolto Friulano
Vine age: 15-60 years
Method: Certified organic
Certifying body: ICEA