Ferdinando Zanusso founded I Clivi when he returned to Italy after thirty years and three different careers in Africa, including a stint in the United Nation's World Food Program. His son Mario joined just after its inception and is involved in all aspects of the farm. Together they seek the fullest expression of their highly reputed terroir in Friuli's esteemed Colli Orientali del Friuli and Collio growing districts.
What distinguishes I Clivi from their peers are their devastatingly low yields, steep terrain, and old vines that range from sixty to eighty years of age. It is not surprising that their calcareous/clay/sandstone soils, or ponca in local dialect, have been noted for their similarities to Burgundy's Côte d'Or and organic farming goes without saying for vineyards of this caliber and rigor. All work in the cellar follows similar principles and attention to detail. Whole bunches are pressed very gently at Champagne levels so to squeeze only the purest must, a philosophy that sets the stage for the superb quality of the finished wines. Using only stainless steel vats for the white wines, the Zanusso's produce wines of precision and definition without the interference of maceration or prolonged contact with the skin.
Vineyards
Galea: 8 hectares, DOC Colli Orientali del Friuli. Average vine age: 70 years. Soils: marl (calcareous clay) with sandstone
Brazan: 3 hectares, DOC Collio. Average vine age: 70 years. Soils: marl (calcareous clay) with sandstone
Wine Tasting Notes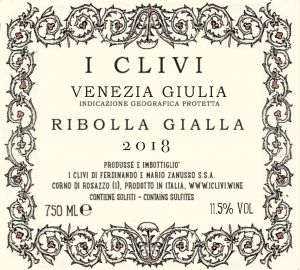 Ribolla Gialla: As with each of I Clivi's wines, a very pure must or "vino fiore" is what allows this Ribolla Gialla to explore and convey its inherent qualities so accurately.  It sees a minimum of six-twelve months on the fine lees with periodic batonnage in the cellar, producing a compact wine with racy acidity, characteristic textured/steely mouthfeel, and lemon blossom flavor profile.  Impeccable when paired with raw shellfish.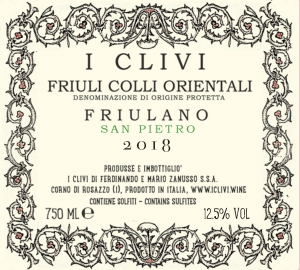 Friulano: This varietal wine is based on the "native" Tocai Friulano grape and elevated on the fine lees for a minimum of six-twelve months. The result is an extremely dry, clean, mineral-driven wine that shows pleasantly restrained aromas and flavors of stone fruit and acacia.  Its lighter body and mouthwatering acidity give it great drinkability and versatility while making it a natural when paired with raw bar and salad courses.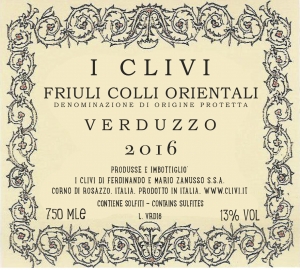 Verduzzo: Native to Colli Orientali, this varietal wine is unique in that it is vinified dry, unlike many found in the region. Because of the grape's thicker skin, this wine shows some structure (even without maceration) in addition to luscious mouth-feel, intriguing quince/floral aromas, and elegant fruit. A truly STUNNING vintage and brilliant wine!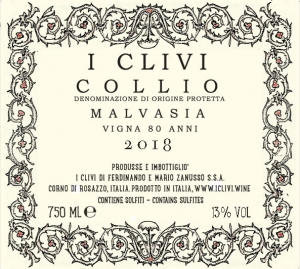 Malvasia: The best recent vintage to date that produced very compelling results. This single varietal bottling of Malvasia comes from .75 HA of low-yielding, 80 year-old vines planted in the Brazan vineyard.  Expect enticing aromas, a luscious mouthfeel, and a palate that bursts with fleshy stone fruits and herbs.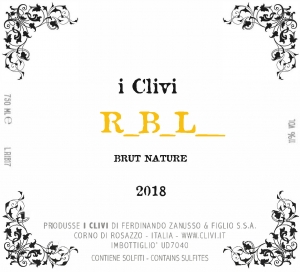 RBL (Ribolla Spumante): Unlike Champagne that is made from a finished wine that is refermented in the bottle, RBL develops its sparkling quality in the vat from the retained CO2 that is produced from the alcoholic fermentation of the must. As a result, no refermentation is necessary and no yeasts or sugars are added. Bright, crisp, and citrusy with a textured mouth-feel that is unmistakably Ribolla Gialla.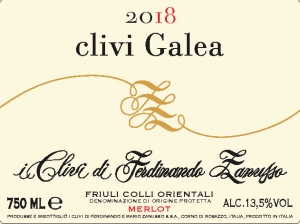 Galea Rosso: All grapes come from the "Galea" vineyard, planted with very old vines (65 yrs old). Fermented in stainless steel using indigenous yeasts, this vintage was matured just over three and a half years in vat before bottling. Look for structure and acidity with notes of ripe cherry fruit, leather, and spice. Trust us, this wine can give any prestigious Right Bank Bordeaux a run for its money.
Annual production: 50,000 bottles
Varietals planted: Ribolla Gialla, Tocai, Malvasia, Verduzzo, Merlot
Soil composition: Clay/Limestone/Sandstone
Total surface area: 16 ha
Vined surface area: 11 ha
Trellising system: Doppio Capovolto Friulano
Vine age: 60-80 years
Method: Certified organic farming since 2008 and certified organic cellar since 2014
Certifying body: ICEA