Az. Agr. Raìca is the courageous viticultural brainchild of Cinzia Pelazza that is based in the province of Sasseri, located in the northeastern part of Sardinia. (If you love Barolo and biodynamic wine, her name is hopefully familiar; she is part of the husband and wife duo behind Az. Agr. Eugenio Bocchino of La Morra, Italy.) Here on the Costa Smeralda the salty air and gusty maestrale remind Cinzia and Eugenio that they are quite a distance from their native, land-locked Piedmont. The couple has always been enchanted by Sardinia's mediterranean landscape and dreamed of setting up a winery in Sardinia, also curious about trying their hand at making white wine. Their intrigue for the area's native varieties – here they cultivate Vermentino and Pascale di Cagliari – led them to explore viticulture in this arid, sunny locale that is highly influenced by each pertinent wind. Eugenio points out that like the Langhe, their vineyards in Sardinia are similarly privy to prominent shifts in temperature throughout the day, making the area even more compelling.
It's clear that a combination of moxy and Piedmont winemaking smarts are the driving forces behind Raìca's wines much more than some extensive knowledge of the local terroir. Nonetheless it is truly refreshing to see this couple challenge themselves so tirelessly and enthusiastically and we look forward to following them on this odyssey.
Wines/Tasting Notes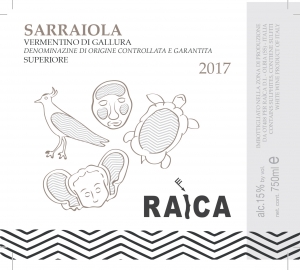 Vermentino di Gallura: 100% Vermentino that is grown in the Colli del Limbara (surrounding the highest peak of Gallura at 1326 meters) in a northeast-exposed vineyard at 550 meters. Cinzia and Eugenio describe this wine as "later harvested," giving 10% of the mass contact with the skins for 14 days to impart a touch of color. This bianco sees two months in used barrique before transitioning to stainless steel vats until bottling in June/July. Look for a fuller body with notes of ripe apricot, yellow apple, acacia, and thyme with a saline/mineral finish. From the 2017 vintage this wine will bear the Vermentino di Gallura DOCG. Very low in sulfur.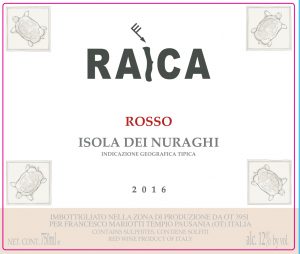 Isola dei Nuraghi Rosso:  A delightfully low-alcohol, spicy red based on the native Pascale di Cagliari variety. Known for its large, connical bunches and sizable berries, experts relate the Pascale grape to the varietals Monica and Nieddu Mannu. Its origins are not entirely known but are suspected to be Spanish. In the mouth this wine recalls a sort of hybrid of Frappato and Nerello Mascalese for its light body and bright acidity which are highlighted by notes of cherries, white pepper, and wild herbs.
Soil Composition: sand/schist
Total surface area: 2 ha
Vined surface area: 1.5 ha
Trellising system: alberello/cordone speronato
Vine age: 5-45 years
Method: organic/biodynamic conversion
Certifying body: N/A